Innovative Drug Discovery and Development
Formerly the John S. Dunn Gulf Coast Consortium for Chemical Genomics (GCC CG) which was formed in 2003, the Consortium for Innovative Drug Discovery and Development (GCC IDDD) is a research consortium focused on providing support for Houston/Galveston scientists in advancing their therapeutics discoveries through development to the clinic. IDDD support includes collaborative networking and joint funding opportunities, shared core resources, and educational programs.
New! The Cancer Therapeutics Training Program (CTTP)
The Cancer Therapeutics Training Program (CTTP) is a multi-institutional post-doctoral training program designed to prepare post-doctoral trainees for future careers in academic and/or commercial cancer therapeutics research and development (R&D). The goal of the program is to recruit and train scientists equipped with the essential skills and knowledge necessary to translate basic cancer research discoveries into commercially viable cancer therapeutics. For more information, visit the CTTP Website.
News
Fannin Open House, November 10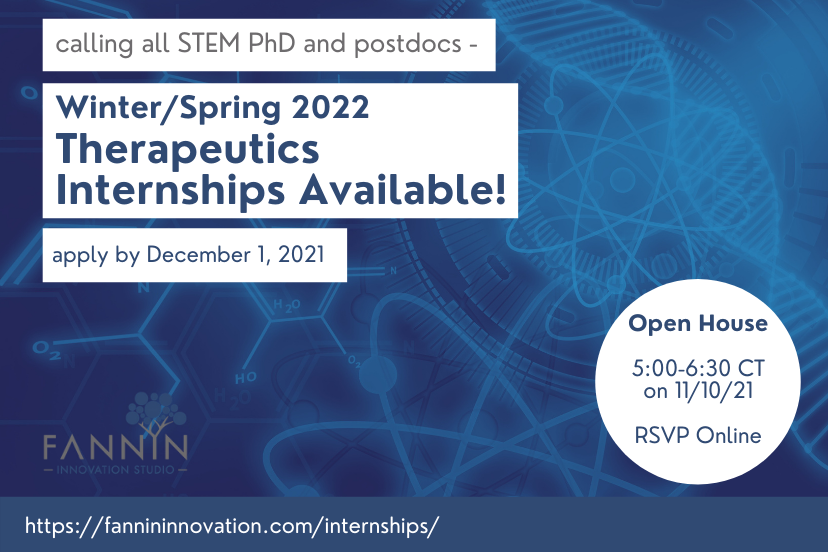 Registration Now Open for NCI Drug Development Workshop
How to Advance a Therapeutic Candidate from Bench to Bedside will be held as a webinar each Friday from July 23 to December 10. The goal of this workshop is to provide researchers with an interactive setting in which they will gain an understanding of product development considerations for anti-cancer therapeutics, to facilitate successful translation from preclinical to clinical studies. Flyer
Thank you to everyone who helped make our Kickoff Mini-Symposium a success! For speaker and panel videos, Click Here.
Upcoming Events
There are no upcoming events at this time.