Gulf Coast Consortium for Innovative Drug Discovery and Development
Formerly the John S. Dunn Gulf Coast Consortium for Chemical Genomics (GCC CG) which was formed in 2003, the Consortium for Innovative Drug Discovery and Development (GCC IDDD) is a research consortium focused on providing support for Houston/Galveston scientists in advancing their therapeutics discoveries through development to the clinic. IDDD support includes collaborative networking and joint funding opportunities, shared core resources, and educational programs.
New! The Cancer Therapeutics Training Program (CTTP)
The Cancer Therapeutics Training Program (CTTP) is a multi-institutional post-doctoral training program designed to prepare post-doctoral trainees for future careers in academic and/or commercial cancer therapeutics research and development (R&D). The goal of the program is to recruit and train scientists equipped with the essential skills and knowledge necessary to translate basic cancer research discoveries into commercially viable cancer therapeutics. For more information, visit the CTTP Website.
News
Fannin Open House, November 10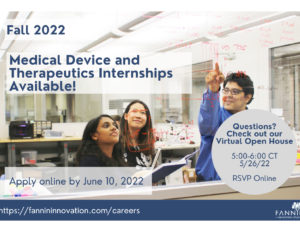 Fannin Innovation Studio is actively seeking Therapeutics interns and has an Open House coming up on May 26th
Fannin primarily in-licenses promising, early-stage therapeutic and medical device technologies from leading academic investigators in the Texas Medical Center and on a national stage. Fannin develops and de-risks these technologies via preclinical work and engineering up through early clinical trials. Additionally, Fannin builds the business model and use case, resulting in strategic partnerships or acquisitions.
Our internship program provides hands-on operational experience in early-stage life science development. Fannin offers two tracks in our internship program: Therapeutics and Medical Devices. Our interns work closely with established and potential portfolio companies, experientially learning about biomedical commercialization. Interns might be tasked with assisting with due diligence, working on market analysis, assisting with product development, or researching and understanding key regulatory requirements. All interns work closely with the core Fannin team to ensure a beneficial and useful experience.
We have had many interns and Fellows complete our program, and we look forward to receiving interest from more of your members!
Questions? Contact Serena Miggins or Stephanie Vega
Careers
Thank you to everyone who helped make our Kickoff Mini-Symposium a success! For speaker and panel videos, Click Here.
Upcoming Events
<!=========Events list Template 2.3.1=========>
Register Here Scientific Talks: What are biologics? What is biologics drug discovery?10:00 AM – 11:30 AM PDT / 1:00 PM – 2:30 PM EDT Career Panel Discussion: What is Merck […]
Find out more »