Program Director:
Co-Program Directors:
Program Administrator:
Peter Davies,MD, PhD
Professor & Director, Center for Translational Cancer Research
Institute of Biosciences & Technology, Texas A&M University
Suzanne Tomlinson, PhD
Director, Research Programs and Strategic Initiatives,
Gulf Coast Consortia
Zhiqiang An, PhD
Professor and Robert A. Welch Distinguished University Chair in Chemistry
Brown Foundation Institute of Molecular Medicine
Director, Texas Therapeutics Institute
University of Texas Health Science Center at Houston
Wenshe Ray Liu, PhD
Professor and Gradipore Chair in Chemistry
Director of the Texas A&M Drug Discovery Laboratory
Texas A&M University
Elizabeth Lawrence
Program Administrator, Gulf Coast Consortia
Karen Ethun
Executive Director, Gulf Coast Consortia/Keck Center
CTTP Information Session – June 8, 2021
(click to download slides)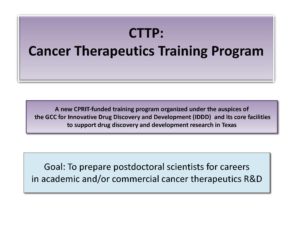 Or click HERE to watch the recorded presentation
---
At the current time, the application process is closed as all slots are filled. Please check back in Spring 2023 for the next call for applications. For additional information, see the Overview of CTTP section and other details about trainee eligibility, programs requirements and the application process.
---
The Cancer Therapeutics Training Program (CTTP) is a multi-institutional post-doctoral training program designed to prepare post-doctoral trainees for future careers in academic and/or commercial cancer therapeutics research and development (R&D). The goal of the program is to recruit and train scientists equipped with the essential skills and knowledge necessary to translate basic cancer research discoveries into commercially viable cancer therapeutics.
The CTTP is a partnership between the Gulf Coast Consortia (GCC) and four partner institutions:
Institute of Biosciences and Technology (IBT) / Texas A&M University (TAMU)
University of Texas Health Science Center – Houston (UTH)
Texas Southern University (TSU)
Baylor College of Medicine (BCM)
The CTTP will leverage the outstanding resources, the large pool of talented trainees and the large number of faculty engaged in cancer therapeutics research in the Gulf Coast Consortia to create an innovative new postdoctoral training program. This training program is designed to leverage CPRIT's investment in cancer research and cancer research infrastructure and serve as the foundation for a training program that will equip and prepare the next generation of scientists to translate scientific breakthroughs into new cancer therapeutics.
The goal of the CTTP is to build upon a core of mentored training focused on the practical aspects of cancer therapeutics research, coupled with a broad-based instructional program on the foundational principles involved in the discovery, development and commercialization of therapeutics. The Training Plan includes a robust professional development program that will prepare trainees for productive careers in cancer therapeutics research in academia, government or the private sector.
The Gulf Coast Consortia is committed to providing equal opportunity in training for individuals with disabilities and individuals from racial and ethnic groups who are currently under-represented in STEM fields. We welcome applications from all qualified trainees, regardless of ethnic/racial status or disability status. All GCC member institutions are ADAAA compliant and have offices of disability support services that provide accommodations and support services to trainees, faculty, staff, and visitors.