Precision Environmental Health Sciences (TPEHS)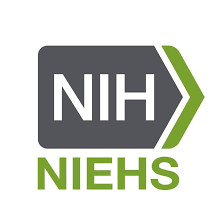 Funded by the National Institute of Environmental Health Sciences, T32 ES027801
Program Director:
Cheryl Lyn Walker, PhD, Director, Center for Precision Environmental Health Professor, Molecular & Cell Biology, and Medicine, Baylor College of Medicine
Program Co-Directors:
Craig Hanis, PhD, Professor, Epidemiology, Human Genetics & Environmental Sciences, and Human Genetics Center School of Public Health, UT Health Science Center at Houston
Richard H. Finnell, PhD, DABMGG, Professor, Center for Precision Environmental Health, Baylor College of Medicine
Rui Chen, PhD, Professor, Molecular and Human Genetics, Baylor College of Medicine
Daniel Gorelick, PhD, Associate Professor, Cellular & Molecular Biology, Baylor College of Medicine
Program Administrators:
Karen Ethun, Executive Director, Gulf Coast Consortia/Keck Center
Elizabeth Lawrence, Program Administrator, Gulf Coast Consortia
Click Here for more information about the Center for Precision Environmental Health (CPEH).
The goal of the interdisciplinary Training in Precision Environmental Health Sciences (TPEHS) is to train the next generation of environmental health scientists working at the interface of genetics, environmental health and data science (GxExD). Historically, training in these disciplines has been siloed, and few researchers have the training needed to incorporate all three into today's precision environmental health research. The TPEHS is designed to meet the need for this interdisciplinary training by preparing the next generation of environmental health science (EHS) researchers to make important research advances and improve our understanding of the environment influences on health and disease.
Program Director Cheryl Walker, PhD, and three Co-PDs — Craig Hanis (Genetics), Richard Finnell (Environmental Health) and Rui Chen (Data Science) — provide leadership for the program and expertise in GxExD research. The Training Plan has been designed to meet TPEHS Program Objectives for trainees to
1) Acquire fundamental knowledge in Genetics, Environmental Health, and Data Science; 2) Become proficient at integrating concepts of GxExD into their research; and 3) Gain the necessary skills and tools to leverage TPEHS training to achieve their next career objective.
The Gulf Coast Consortia is committed to providing equal opportunity in training for individuals with disabilities and individuals from racial and ethnic groups who are currently under-represented in STEM fields. We welcome applications from all qualified trainees, regardless of ethnic/racial status or disability status. All GCC member institutions are ADAAA compliant and have offices of disability support services that provide accommodations and support services to trainees, faculty, staff, and visitors.
List of Participating TPEHS Departments
| | | |
| --- | --- | --- |
| Baylor College of Medicine | UTH-GSBS | UTH-SPH |
| Molecular and Cellular Biology | Quantitative Sciences | Epidemiology, Human Genetics and Environmental Sciences |
| Molecular and Human Genetics | Genetics and Epigenetics | Biostatistics and Data Science |
| Quantitative & Computational Biosciences (QCB) | | |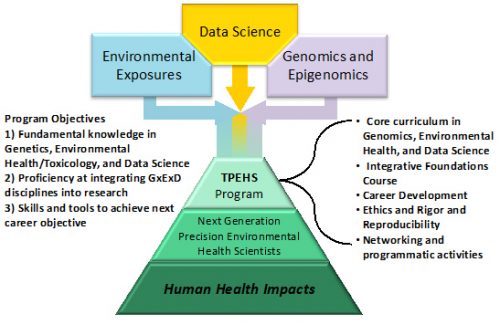 A Core Curriculum for PhD students includes didactic coursework to acquire competencies in Environmental Health/Toxicology, Genetics, and Data Science in Year 1, and a Foundations Course on Integrative Concepts of Precision Environmental Health in Year 2; postdoctoral trainees audit this course in their first year in the Program. This didactic training is complemented by Career Development activities (including an Individual Development Plan), training in Responsible Conduct of Research (ethics, rigor and reproducibility) and programmatic/networking opportunities (including peer-to-peer mentoring) that enhance the training environment and build cohesion among trainees. For postdoctoral trainees, this includes the opportunity for industry-based internships with the Health and Environmental Sciences Institute (HESI) and/or preparation for academic careers via grant-writing workshops and submission of a K99/R00 application.
The Center for Precision Environmental Health (CPEH), created in 2016 with Dr. Cheryl Walker as its founding and current Director, was established to understand causes of disease through research at the intersection of genetics, environmental health and computational biology. The goal of the CPEH is to increase our understanding of how our environment influences health and risk for disease. It will focus on how early life exposures to certain environmental factors permanently change the body's physiological processes to increase risk for cancer and metabolic diseases. CPEH, located on the 13th floor of BCM's Alkek Building, provides an additional home base for TPEHS.